---
Staff
Liza Simone
David Pelton
Our collaborators are at the core of our programming and are the inspiration that makes all things possible.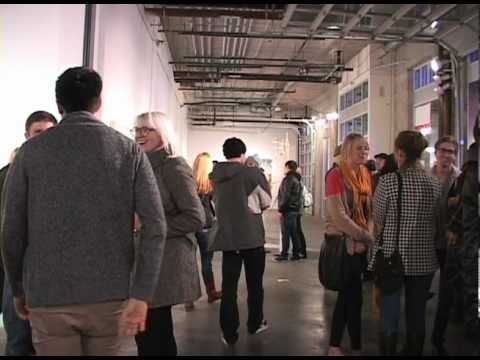 ---
Benefits of programming
In addition to its advancement of the arts, PGLA's unique partnering programs provide a positive effect on the city's economic development. PGLA serves as a pedestrian generator, attracting new tourism to an area, as well as proffers blight mitigation and viable leasing incentives that serve local property owners, the directives of business improvement districts, and the city as a whole. Each of PGLA's programs is specifically created to attract new audiences for its collaborators, as well as encourage new cultural relationships within PGLA's partnering municipalities.
PGLA also grants exhibit opportunities and exposure for local nonprofits, arts organizations, and more established arts institutions, helping to advance the mission of the participating agencies.
What we do
Phantom Galleries L.A. (PGLA) revitalizes and energizes communities and pedestrian thoroughfares by converting vacant storefronts throughout Los Angeles County into temporary galleries and pedestrian viewing only galleries transforming districts into vibrant cultural hubs through the 24/7 public presentation of art.
---
How we do it
By producing a wide range of programs that hold appeal for art enthusiasts and neophytes alike, PGLA fosters a unique collaboration between local artists, the artistic community, and the public that proffers a living dialogue and education on contemporary art practices. Dedicated to offering hands-on and on-going support of the arts, PGLA provides a nurturing, supportive environment for the creative process.  PGLA serves as a platform for artistic experimentation, growth, and career development by furnishing artists, curators, and galleries exhibition venues outside the traditional museum or gallery setting. Culling and expanding on existing resources within its partnering localities, PGLA also serves as a catalyst for the creation of a sustainable cultural infrastructure that, while responsive to the immediate needs of the community it serves, emulates and celebrates the multifaceted vibrancy of the Los Angeles art scene.
---
History
From its humble beginnings as a storefront art exhibition project in partnership with DLANC (Downtown Neighborhood Council Gallery Row Ad Hoc Committee) held in conjunction with the 2004 inauguration of Downtown Gallery Row, PGLA has grown into a nationally and internationally recognized agency renowned for its innovative programming and vital community enhancing services. Expanding on a model established by the San Jose, CA-based Phantom Galleries, this first project formed new alliances between the arts community and local property owners and developers.  These productive affiliations proved crucial to Downtown Los Angeles's cultural renaissance and revitalization and served to anchor Downtown Gallery Row as a thriving Arts District.
Inspired by the success of this first collaboration and the potential of future partnerships between the arts and private sector to transform underutilized areas into cultural districts, Phantom Galleries Los Angeles (PGLA) was launched in 2005. Since its inception, PGLA has produced hundreds of dynamic programs, performances, and exhibitions, featuring over 2,500 artists of all media and in all stages of their career in partnership with sixty property owners and nine cities throughout Los Angeles County.
Additionally, PGLA has produced numerous city-wide events such as Let There Be Light, (December 2009) that illuminated Downtown Long Beach with 28 light-based art exhibitions in 25-plus vacant storefront windows.  Let There be Light also launched the Long Beach Redevelopment Agency-sponsored PGLA "Guide by Cell Audio Tour," offering personalized messages from the exhibiting artist or curator accessed via cell phone.
PGLA has received coverage in local, national and international publications such as The Los Angeles Times, Wall Street Journal, Italian Elle Décor and unique business and tourism publications such as Biz Bash and  enRoute (Air Canada's in flight magazine).  Locally, PGLA's exhibitions have been reviewed in the LA Weekly, Artillery, THE Magazine, Coagula, artforum.com and others.
Some of PGLA's most notable collaborations include the exhibition of celebrated artists such as Kim Abeles, Lita Albuquerque, Nancy Buchanan, Futura, GRONK, George Herms, Ed Ruscha and Bill Viola,  to name a few and artist groups including LA Art Girls, Los Angeles Art Association, Fallen Fruit and Farm Lab. As testament of its support of local emerging artists and curators, PGLA's programs have provided springboards for a number of artists' careers, garnering them museum exhibitions and representation with prestigious Los Angeles-based galleries.  In 2010, PGLA joined forces with the Torrance Art Museum to host debut museum exhibitions for some of PGLA's program curators.
PGLA has also provided auxiliary exhibition spaces for recognized arts and cultural institutions, such as The Armory for the Arts, The TED Prize,  USC Roski School of Fine Art, as well as renowned festivals and conferences including The Women's Conference, GLOBAL, Tour Des Artists  Long Beach, Green Long Beach Festival, Toyota Grand Prix, and Rodeo de Concors.  Proactive proponents of burgeoning and established Arts Districts, PGLA has also sponsored programs in conjunction with the Downtown Art Walk, 2nd Saturday Art Walk, the Miracle Mile Art Walk, Pasadena Art Walk, and Pasadena Art Night. Other PGLA events include concerts, live art performances and projections, lectures, and poetry readings.
---
"It is truly the unsung hero's shoulders that we all stand upon."
Special thank you to Dan Scott, Kathryn Hargreaves and Tim Quinn of Dangerous Curve Gallery for their contributions to making programming possible. Huge thank you to Dan Scott of American Image Gallery, David Kosky of Urutu and Warren Schultheis of Graphic Vendor, who all gave above and beyond.
Thank you to all our volunteers and supporters.